John Morton - a Finnish-Swedish signer
Skrivet av -
2007-06-04 22:11
John Morton - a Finnish-Swedish signer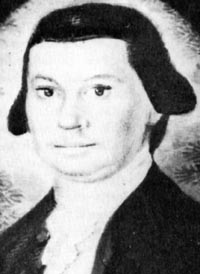 J
ohn Morton is regarded as one of the Founding Fathers of the United States of America. He was one of the signers of the Declaration of Independence. He was a delegate from Pennsylvania.
John Morton was an Episcopalian and a devout Christian.
From:

Robert G. Ferris (editor), Signers of the Declaration: Historic Places Commemorating the Signing of the Declaration of Independence

, published by the United States Department of the Interior, National Park Service: Washington, D.C. (revised edition 1975), page 109-110:
John Morton, one of nine signers from Pennsylvania, is better known there than in the Nation, but he rendered meritorious service to both. He cast the decisive ballot that swung his State over to an affirmative vote for independence in the Continental Congress. He was the first signer to die.

Morton was born of Finnish-Swedish descent in 1725, shortly after the death of his father, on a farm in Ridley Township, Chester (present Delaware) County... In 1774 he won appointment as an associate justice of the Pennsylvania Supreme Court... despite his rise in State circles, Morton had always maintained strong ties with his own county. He resided there all his life, remained active in civic and church affairs, and stayed close to the people...

Within a year of signing the Declaration, in the spring of 1777, Morton fell ill and died on his farm at the age of 51. A few months earlier, he had bequeathed his land and property, including a few slaves, to his wife and five daughters and three surviving sons. But he could not will them security; shortly after his demise they had to flee from their home in the face of an imminent British attack. Morton's grave is located in the Old St. Paul's Cemetery n Chester, Pa.
Senast uppdaterad 2007-06-04 22:13